Melfort Wholesale Kitchen Cabinets | Wholesale Cabinetry in Melfort, SK
Melfort Wholesale Cabinets | RTA Kitchen Cabinets in Melfort
Kitchen Cabinet Supplier in Melfort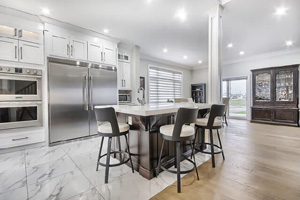 Do you want to save more on wholesale kitchen cabinets in Melfort? Our dealers don't pay the markups charged by other kitchen cabinet wholesalers in Melfort because we manufacture our own line of cabinets! Manufacturing our own cabinets means we're able to create new products that meet the needs of the Canadian market and maintain direct oversight of quality control for our products.
Need RTA kitchen cabinets in Melfort fast? We have over 100k sq ft of local warehouse capacity in order to maintain stock of our products and reduce lead times. We also have multiple showrooms for you to visit, view samples of our products and work directly with one of our representatives. When you order wholesale cabinets in Melfort from us you can either pick them up directly from our warehouse, or have them shipped flat box to anywhere in Canada.
Best RTA Cabinets in Melfort
Your clients don't have to settle for poor quality cabinets to stay within their budget! Canada kitchens line of ready to assemble cabinets in Melfort provides Canadian home renovation and building businesses with an option for kitchen and RTA bathroom cabinets in Melfort that are both high-quality and affordable.
All of our cabinets are made using AA-grade plywood and HDF for resistance to temperature and humidity changes and to ensure the longevity of the cabinets. The design of our cabinets is well thought out with ⅝" cabinet boxes and French dovetail, face-frame to gable construction for maximum durability. We've included desirable features like full-extension glides and soft-close hinges on all of our wholesale cabinets in Melfort.
Our RTA Cabinets in Melfort Include…
French dovetail, face-frame to gable construction
High-quality solid wood face-frames
Cabinets sized in 3-inch increments
Flat box ready-to-assemble
Solid-wood drawer construction with dovetail corners
⅝" AA furniture-grade plywood cabinet boxes
Soft-close drawers and door hinges
Free Designs For Wholesale RTA Cabinets in Melfort
Get free design support for all of your kitchen and bath projects when you're approved for a wholesale account with us! Our in house design team will work with you to create your client's dream kitchen or bathroom using our RTA cabinets in Melfort. Each design includes 3D renderings, floorplans, and elevations + 1 free revision. Save time and money with this free service and make sure you're using our wholesale kitchen cabinets in Melfort to their full potential.
Get More Info On Our RTA Kitchen Cabinets In Melfort
You can get our catalogue and MSRP price list for our wholesale RTA cabinets in Melfort delivered straight to your inbox when you sign up here. Our catalogue includes information such as our full line of products, specs, materials and company info. If you are interested in viewing samples of our Melfort wholesale kitchen cabinets, visit one of our showrooms or speak with a representative about having samples delivered to you.
Melfort RTA Kitchen Cabinets
Our Melfort wholesale kitchen cabinets come in many styles, sizes and colours - giving your clients the ability to get the custom look they want, without the custom cabinetry price tag. Although we have many popular styles, shaker white rta cabinets in Melfort are our most popular, with over 50% of our orders being for Melfort white cabinets. This is because white can make a space feel bigger and brighter which especially works well in smaller spaces.
Some of our most popular styles include…
Melfort black kitchen cabinets
Off white kitchen cabinets in Melfort
Dark grey kitchen Cabinets in Melfort
Traditional kitchen cabinets in Melfort
Brown kitchen cabinets in Melfort
Melfort grey kitchen cabinets
Modern kitchen cabinets in Melfort
Melfort Shaker kitchen cabinets
Melfort light grey kitchen cabinets
… and more!
RTA Bathroom Vanities in Melfort
If you're looking for high-quality RTA bathroom vanities in Melfort that your clients will love, Canada Kitchens can help! We provide home renovation, design, and building businesses with wholesale bathroom cabinets in Melfort at up to 50% off MSRP!
Small bathrooms can be made to look bigger and brighter with a white RTA bathroom vanity in Melfort. Speak with a representative from our team today to learn more about Melfort RTA bathroom cabinets.
#1 Supplier Of Wholesale Kitchen Cabinets in Melfort
Want to know if your business is eligible to receive a discount of up to 50% off RTA cabinets in Melfort? Apply now for a wholesale account to find out! We will ask you to provide a few details about your business in order for our team to verify your eligibility. Once your account has been approved you will be able to gain access to shop Melfort wholesale kitchen cabinets online or through one of our wholesale representatives. We primarily work with general contractors, home renovation businesses, interior design firms, builders, kitchen and bath retailers and more!
Melfort Bathroom Cabinets
Cabinet Maker Near Me Melfort
Kitchen Cabinets in Melfort
Melfort Bathroom Cabinetry
Melfort White Shaker Cabinets
Melfort Cabinets
White Cabinets in Melfort
Melfort Cabinetry
Melfort Grey Cabinets
RTA Bathroom Cabinets in Melfort
RTA Bathroom Vanities in Melfort
Melfort Discount Cabinets
Kitchen Cabinetry in Melfort
Melfort Wholesale RTA Cabinets
RTA Cabinet Supplier Near Me Melfort
Cabinet Supplier in Melfort
Cabinet Manufacturer in Melfort
Cabinet Maker in Melfort
Melfort White Kitchen Cabinets
Wholesale Cabinets in Melfort
RTA Kitchen Cabinets in Melfort
We supply wholesale kitchen cabinets in Saskatchewan. Please call us at 1-888-905-0286 for more information.
* Please note: Canada Kitchens Wholesalers Inc. has no relation to Melfort Kitchen Cabinets.