Chatham Wholesale Kitchen Cabinets | Wholesale Cabinetry in Chatham, ON
Chatham RTA Kitchen Cabinets | Best RTA Cabinets in Chatham
Wholesale Kitchen Cabinets in Chatham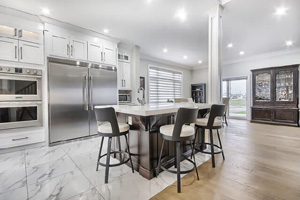 Provide your clients with options for kitchen cabinets in Chatham that are high-quality and cost effective! Our line of Chatham wholesale cabinets combine high-quality materials, durable construction and premium features. The cabinets are made of AA-grade plywood and HDF for added resistance to changes in temperature and humidity. All of our cabinets have ⅝ " plywood boxes and french dovetail, face-frame to gable construction for exceptional strength. We have also opted to make features like soft-close hinges and full-extension glides come standard on all of our RTA kitchen cabinets in Chatham.
Canada Kitchens RTA Cabinets in Chatham Include…
⅝" AA furniture-grade plywood cabinet boxes
Soft-close drawers and door hinges
Cabinets sized in 3-inch increments to fit any space
Solid-wood drawer construction with dovetail corners
Flat box ready-to-assemble
French dovetail, face-frame to gable construction for durability
High-quality solid wood face-frames
Free Designs For Chatham Wholesale Kitchen Cabinets
When you sign up for a wholesale account with us, your business will receive access to free kitchen designs for every order of our RTA kitchen cabinets in Chatham! One of expert kitchen designers will provide you with a floorplan, elevations and 3D renderings for you to show your client, and one free revision. Free designs will save your business money and help ensure that our Chatham wholesale cabinets are used as efficiently as possible.
Chatham Kitchen Cabinet Wholesalers
Your business can save more on RTA cabinets in Chatham by becoming a Canada Kitchens dealer. This is because we manufacture our own cabinets - saving you on markups that other kitchen cabinet wholesale distributors in Chatham charge. This is also a benefit to your business because we have direct oversight of quality control at our RTA kitchen cabinet factory and are able to create new products based on the needs of Canadian homeowners.
Looking for wholesale cabinets in Chatham? Canada Kitchens is the go-to supplier and manufacturer of ready-to-assemble cabinets in Chatham. With over 100k sq ft of local warehouse capacity, multiple showrooms, high-quality products and over a decade of experience in the kitchen cabinetry industry - we are able to meet the needs of Canadian businesses looking for RTA kitchen cabinets in Chatham.
Ready To Assemble Cabinets Chatham
Your clients don't need expensive custom cabinetry to achieve their dream kitchen! Canada Kitchens RTA cabinets in Chatham come in a variety of sizes, styles and colours and can be used to create a custom look without the custom price. Of course our bestseller remains shaker white RTA cabinets in Chatham. This is because they go with everything and give any space a bright and airy feel.
We also offer other styles of Chatham white kitchen cabinets like our Antique White and York White. Some of our other styles and colours are…
Black kitchen cabinets in Chatham
Grey kitchen cabinets in Chatham
Chatham Shaker kitchen cabinets
Light grey kitchen cabinets in Chatham
Off white kitchen cabinets in Chatham
Dark grey kitchen Cabinets in Chatham
Traditional kitchen cabinets in Chatham
Modern kitchen cabinets in Chatham
Brown kitchen cabinets in Chatham
… and more!
Wholesale Bathroom Cabinets in Chatham
Canada Kitchens line of wholesale bathroom vanities in Chatham is available to home renovation, design and building businesses at up to 50% off MSRP! Our RTA bathroom cabinetry in Chatham is high-quality, affordable, and comes in a variety of styles to meet your clients needs.
Our shaker white RTA bathroom cabinets in Chatham are perfect for smaller bathrooms as they provide the illusion of a brighter and more open space. Talk to a wholesale representative about our Chatham RTA bathroom vanities today!
#1 Supplier Of RTA Cabinets in Chatham
Eligible businesses can get wholesale kitchen cabinets in Chatham at up to 50% off MSRP when they register for a wholesale account with us. The types of businesses we primarily work with are in the interior design, home renovation, building, general contracting, and kitchen and bath retail industries. We will ask you to provide some details about your business when you apply for a wholesale account in order for our team to verify that your business meets our criteria. Once you are verified you will receive a set discount and will gain access to shop RTA kitchen cabinets online in Chatham.
RTA Bathroom Vanities in Chatham
Discount Cabinets in Chatham
Chatham White Kitchen Cabinets
Wholesale Cabinets in Chatham
Chatham Wholesale RTA Cabinets
RTA Cabinet Supplier Near Me Chatham
Chatham Cabinet Supplier
Chatham RTA Bathroom Cabinets
Chatham White Shaker Cabinets
Cabinets in Chatham
White Cabinets in Chatham
Chatham Cabinet Manufacturer
Cabinet Maker in Chatham
Cabinet Maker Near Me Chatham
Kitchen Cabinet Supplier In Chatham
Chatham Bathroom Cabinets
Chatham Kitchen Cabinets
Chatham Bathroom Cabinetry
RTA Kitchen Cabinets in Chatham
Chatham Kitchen Cabinetry
Chatham Cabinetry
Chatham Grey Cabinets
Get Pricing And Specs For Our Wholesale Cabinets In Chatham
Learn more about our line of ready-to-assemble cabinets in Chatham with our catalogue and MSRP price list. Our catalogue features all of our products and specs as well as additional information about our company. You can have these delivered straight to your inbox here. To view product samples, visit your nearest Canada Kitchens showroom or speak to one of our wholesale representatives to have samples shipped to you.
We supply wholesale kitchen cabinets in Ontario. Please call us at 1-888-905-0286 for more information.
* Please note: Canada Kitchens Wholesalers Inc. has no relation to Chatham Kitchen Cabinets.